Learning Blueprinting through workshops, e-learning, web-conferences, software and Blueprinting Center.
You may have seen "parachute" workshops... where the trainer drops in for a few days and wishes everyone good luck at the end. The training usually doesn't "stick" does it? New Product Blueprinting is implemented through a "blended workshop" approach that combines a) face-to-face workshops, b) self-paced e-learning, c) web-conference coaching, and d) advanced software & job aids.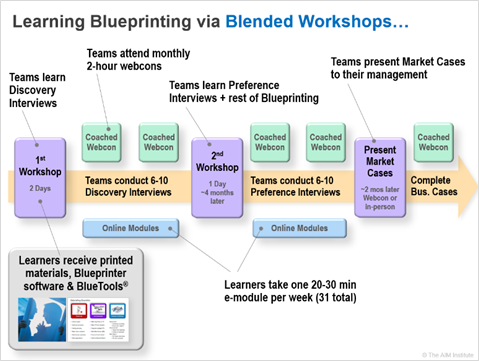 A workshop group is usually comprised of 3-to-6 real-project, multi-functional teams, each with 4-6 members. If you have 15 or fewer total participants (a "small" workshop), a single AIM Trainer/Coach is used. For groups of 16-30 (a "standard" workshop), one AIM Trainer and one AIM Coach are engaged. The following timeline is typically followed:
Pre-workshop: A pre-workshop web-conference with team leaders is used to help them plan their project scopes.
First workshop (2 days): The AIM Trainer and Coach teach the Market Research and Discovery Interview steps... with extensive team breakout sessions for role-playing.
3-4 Months between workshops: Each project team conducts 6-10 Discovery customer interviews in its target market segment... with 2 or 3 coached, monthly web-conferences.
Second workshop (1 day): Teams data-mine their Discovery interviews and prepare for Preference Interviews. They also learn the remaining Blueprinting steps.
Market Case: We recommend you schedule a review where each team reports out on their Market Case. AIM trainers/coaches typically join via web-conference.
Business Case (optional): The teams conduct Side-by-Side Testing, Product Objectives, Technical Brainstorming & Business Case. The AIM Coach provides guidance at monthly web-conferences, typically supported by someone in your organization.
There are many variations to the above. Here are some:
Sometimes the 2nd 1-day workshop is eliminated and the material is taught via web-conference.
The 2-day workshop can be held "virtually"... typically in two consecutive half-day sessions. When this happens, there is usually no 2nd 1-day workshop... so the need for in-person meetings is totally eliminated. This is a good choice when it's costly to bring global employees to an in-person workshop.
Instead of all teams meeting in monthly follow-up webcons, a dedicated coach works with each team in short monthly webcons and "as-needed."
Blueprinting learners access all their resources in one place: www.blueprintingcenter.com. Here they find Blueprinter® software, e-learning modules, BlueTools® aids, BlueHelp™ knowledge center, and their project tracker. The program is perfect for those responsible for innovation, strategy, and new product development.
For a short video on how New Product Blueprinting is learned, visit www.NPBtraining.com.
Keywords: New Product Blueprinting, blended workshop, Blueprinting training, Blueprinting Center, Blueprinter software, BlueTools, BlueHelp, web-conference coaching