Proper meeting setup is the first step to a successful brainstorming session.
When Alex Osborn—a Buffalo, New York advertising executive—developed brainstorming in the 1940's, he introduced four rules:
Don't criticize ideas
Wild ideas are welcome
The more ideas, the better
Build on each other's ideas
These rules still apply, but we'll introduce some modern best practices to make your sessions as productive as possible. We'll examine these as we move through four steps of brainstorming, as shown below. For a more complete discussion, please view e-Learning Module 29: Technical Brainstorming at www.blueprintingcenter.com > e-Learning.
The first step is to set up your meeting. Consider inviting 4 types of participants:
Project team members: These people are already on your team and have deep knowledge and interest. They've been thinking about this for a long time.
Internal experts: These are colleagues in your business—but not on your team—that work in this technology space and are current in it.
Internal "wild cards": These are highly creative individuals that work in other parts of your company, who can bring a fresh perspective.
External experts: These are individuals from outside your company… universities, start-ups, recent retirement, or elsewhere. Have them help you under a non-disclosure agreement.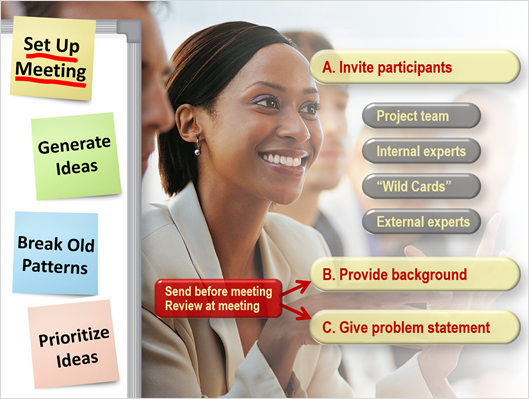 Prior to the meeting—and then again at the beginning of the meeting—provide background on your project, so everyone understands what they're helping you accomplish. Be sure to give them a concise problem statement—a description of what you're trying to solve. This can often just be your Outcome Statement.
Important: Don't try to tackle more than one problem statement in a single brainstorming session. It's much better to intensely focus on one outcome at a time… and then conduct separate brainstorming sessions for other target outcomes as needed.
Today your Technical Brainstorming is done in Excel-base Blueprinter 4.0, Step 6. (Later, this will be part of cloud-based Blueprinter software.) You'll see step-by videos and instructions for this in E-learning Module 20: Technical Brainstorming, at www.blueprintingcenter.com > e-Learning.
To get started, open your Excel-based Blueprinter 4.0 project file (which you launched earlier from cloud-based Blueprinter Tool 3.7 on the page where Market Cases are published). Go to Step 6 and enter your customer outcome (red box) and problem statement (purple box) as shown below. You can set up brainstorming sessions for up to 6 different customer outcomes. Click the appropriate "Brainstorm Sheet #" link to go to the sheet where your group's brainstorming ideas will be recorded.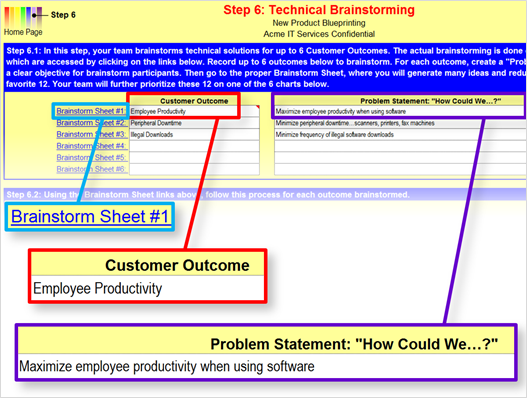 For more on this topic, see e-Learning Module 29: Technical Brainstorming at www.blueprintintcenter.com > e-Learning.
Keywords: Blueprinting Step 6: Technical Brainstorming, solution brainstorming, solution ideation, technology development, product development, science-facing, market-facing, brainstorm meeting setup, project team member, wildcards, internal experts, external experts, brainstorm background