How to probe during customer interviews
2. Supplier-led vs. customer-led interviews
The topics discussed during Discovery interviews should come from the customer--not you.
One of the most significant differences in B2B-optimized Discovery interviews is that the interview is really led by the customer, not you. Imagine you are interviewing a customer about their paper printing needs and want to uncover their most important outcomes (desired end results). Now imagine each outcome can be found in the cell of an "outcome grid" … with dozens of cells.
How will you uncover these outcomes? Most suppliers do this by asking, "Would you like online diagnostics? How about photo-quality resolution? "Or maybe 2-sided printing?" As shown in the illustration, the supplier leads the interview by marching through their pre-conceived ideas.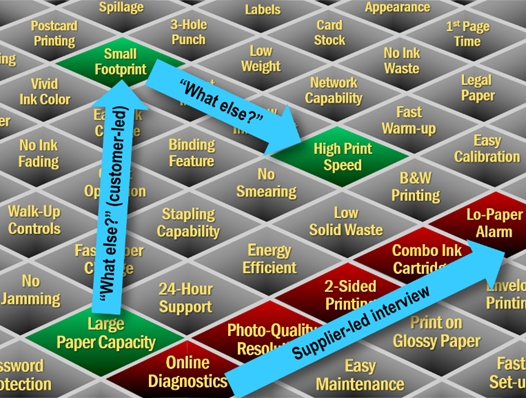 In a customer-led interview, you ask, "What kind of problems are you having with your printing"… or, "What would your ideal printing look like?" The customer might say they'd like a larger paper capacity, and you'd probe this for a while. Then you'd simply ask, "What else" and the customer might mention a small footprint.
Does this work? You bet: Blueprinting clients routinely conduct interviews that can last for hours… and the customer leads them. So remember: When you're conducting your Discovery interviews and you've finished probing an outcome on a sticky note, you don't need to ask them a clever question of your design: "Would it help if?"... or "Have you ever wanted…?" Just ask them…
Any other problems?
Anything else in your ideal world?
What else?
For more on this, review e-Learning Module 12: Probing Skills, at www.blueprintingcenter.com > e-Learning. Also see Rule #3 (with video) in the AIM e-book, Reinventing VOC for B2B.
Keywords: topics discussed, customer-led interview, Discovery interview, outcome grid, what else, anything else, what other problems, probing skills