It's too early to build a value calculator while interviewing... but this is the time to gather the economic data you'll need later.
You may have noticed value calculators aren't one of the seven Blueprinting steps. There's a reason for this: You'll start gathering data for your calculator as early as Discovery interviews and continue adding "layers of understanding" throughout the entire front-end of innovation.
During Discovery Interviews, you'll gain rich insights into the customers' world, which will later help you understand why customers want what they want.
You'll uncover all the value creation possibilities—or customer outcomes—you might pursue.
During Discovery interview visits, you'll conduct site tours, looking for more outcomes you could improve.
During Preference Interviews, customers will help you prioritize the outcomes they would like you to create new value for… so you don't focus on the wrong things.
They'll even tell you the level to which you should improve each outcome, and how aggressively to pursue it… an early indication of price elasticity.
In Side-by-Side Testing, you'll understand customers' next best alternative. The baseline for new value creation is whatever customers are getting today from competitors. Most suppliers miss this, but you'll understand it with great precision.
In your product objective setting and technical brainstorming, you'll be completely focused on the value customers want to receive.
Finally, although it's beyond the scope of Blueprinting, you should continue to build and refine your understanding of customer value with prototypes, field trials and case studies… even after product launch. This helps you further optimize your product, promotion and pricing.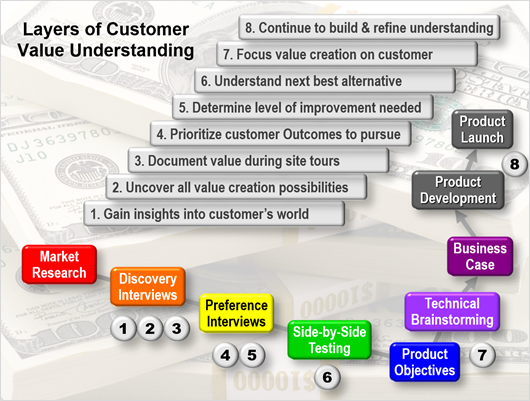 You'll learn more about this next concept in e-Learning Module 8: Creating & Capturing Value at www.blueprintingcenter.com, but for now consider what it means to create and capture value.
Creating value: This is what happens when you interview your customers and take tours of their facilities. You and your customers are cooperating with each other, looking for ways you can bring them innovation through a new product.
Capturing value: You do this when you charge a premium for your new product. It's still a good deal for customers: You might help them save $100,000 per year… and then "pull back" $30-40,000 for yourself with premium pricing. But now, instead of being in cooperation, you and your customer are in competition.
Why is this important? Because the front-end of innovation is the best time to gather intelligence for product pricing later. Once your new product has launched, will your customers be happy to provide information about the value it provides them? Not likely. You want to start thinking about value calculators early so you know what data to gather while customers are willing to disclose it.
You can download an Excel-based Value Calculator Example at www.blueprintingcenter.com > BlueTools > Skill-Building & Other Tools.
Keywords: value calculator, customer value, value calculator example, new product pricing, understand customer value, communicate customer value, layers of customer value understanding, create value, capture value