Use this Blueprinter tool to gather all your project's economic data at once.
Imagine you've completed your Discovery interviews and want to begin estimating the potential value of eliminating some problems. Eventually this economic data will be used as you build a value calculator. For more on the creation of value calculators, see e-Module 8: Creating & Capturing Value at www.blueprintingcenter.com > e-Learning.
Your Blueprinter software (at www.blueprintingcenter.com > Blueprinter software) provides an easy way to gather all your economic data in one place. Follow this process to bring any sticky note containing quantitative data into a single "interview" in your project.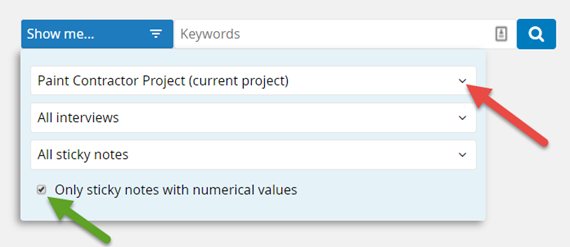 Go to your Blueprinter project and click Menu > Search Interview Notes. You'll see you have several filters to choose from in the dark blue, upper-left "Show me" field.
Do not enter any Keywords.
Select just your current project (red arrow in illustration above).
You'll then have a choice (just below this field) to select a specific interview or all interviews. Choose "All interviews." Also choose "All sticky notes" below this field.
Check "Only sticky notes with numerical values" (green arrow).
Click the search arrow (magnifying glass icon) and you'll see all the sticky notes in your project that contained numerical values.
Select all of these and import them into your project. It's best to create a "new interview" which you might name "All quantitative sticky notes." These sticky notes will all be cloaked "grey" so future searchers don't find the same sticky note over and over again.
Important: When you are conducting Discovery interviews, get into the habit of using numerical values instead of text. So don't record that it takes "five minutes" to remix the paint… rather that it takes "5 minutes."
The last BlueHelp article, Economic probing questions, provided three questions to help you gather the financial data you'll enter into these sticky notes during your Discovery interviews.
Keywords: value calculator, economic data, financial data, new product pricing, probing questions, Blueprinter search, sticky notes with numerical values