Step 1. Brainstorm Assumptions
4. Add more assumptions with "Typical Assumptions"
After your team enters all the assumptions it can think of, use these "Typical Assumptions" to see if you missed some.
Has your team generated all the assumptions it can think of? Now it can use a "safety net" to add more that it might have overlooked. Within each category—Market Dynamics, Internal Capabilities, and Customer Outcomes—there is a switch you can click to reveal "Typical Assumptions." See blue arrow in illustration.
When you click this switch, you'll see a list of typical assumptions to consider. The illustration below shows these for purple "Internal Capabilities." If you see an assumption here that you'd like to add to your collection of assumptions, just click it and a new sticky note with this assumption will appear at the bottom of your collection.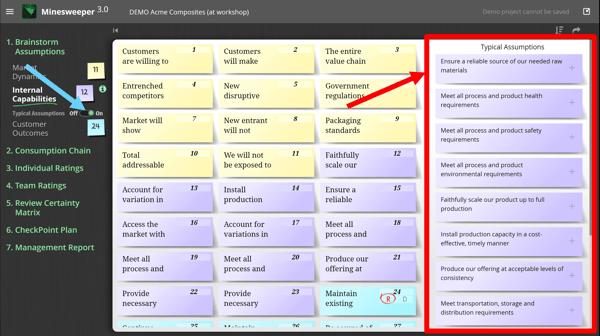 You'll find four sets of these typical assumptions… for Market Dynamics, Internal Capabilities, Required Customer Outcomes, and Desired Customer Outcomes. Some teams like to start with these Typical Assumptions because it saves them time... but most feel it's better to generate their own assumptions first and just use these as a safety net. If you don't find many of these useful, it's a good indication your team has been quite thorough in generating its own assumptions.
Keywords: typical assumptions, safety net, more sticky notes, Market Dynamics, Internal Capabilities, Customer Required Outcomes, Customer Desired Outcomes