How to conduct a customer tour
4. Convincing customer to give you a tour
Consider these options if a customer resists providing a tour when you visit them.
Some companies and industries are notoriously resistant to letting you tour their facilities. That's OK. The question is, can you at least learn more than your competitors? Consider these approaches.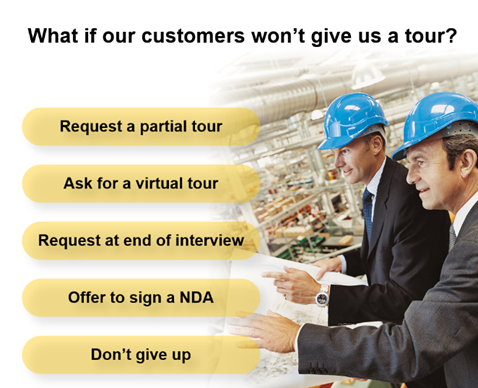 Request a partial tour. The customer may be comfortable letting you see certain less-proprietary portions of their operation.
Ask for a virtual tour. They can sketch out their process on a conference white board, giving you an excellent understanding of their process.
Request the tour after your interview. Yes, ideally you'd like to tour first and then interview. But sometimes a customer is more willing to let you see their process after you've impressed them with your sincere desire to listen and learn during an interview.
Offer to sign a non-disclosure agreement (NDA). This can make a customer more willing to let you tour their operation.
Don't give up. Just because they say "no" the first time, don't assume you'll never get that tour. The secret? Convince them you are a supplier that can truly innovate on their behalf… and that the benefits of working with you outweigh the risks.
For more on this topic, view e-Learning Module 14: Customer Tours, at www.blueprintingcenter.com > e-Learning.
Keywords: Reluctant customer, customer tour, B2B customer tour, tour of customer facility, tour of customer operation, partial tour, virtual tour, tour after interview, non-disclosure agreement, NDA