9 Suggestions for successful Preference interviews
Consider these logistics for your Preference interviews:
Interview roles: As with Discovery interviews, it's common to have three roles: Moderator, Note-taker, and Observer. The Observer role is optional… and most teams find it's even easier to eliminate the Observer role for Preference than Discovery interviews: The pace is usually not as brisk in Preference interviews as Discovery, and the "flow" is more guided and predictable.
Venue: Face-to-face interviews are always the "gold standard," but you'll find that it's quite easy to conduct your Preference interviews via web-conference. This is especially true if you've already met your customer contacts face-to-face in a Discovery interview or other settings.
Partial interviews: What if you only have 45-60 minutes for the Preference interview? No problem: Just focus on the first part… gathering 1-to-10 importance and satisfaction ratings for your ten outcomes. Some teams begin with more complete face-to-face interviews, and then conduct as many of these "partial" interviews via web-conference as possible… to increase their statistical confidence.
Interview opening: As with Discovery interviews, the Moderator should cover three points to open the session: 1) Purpose ("You and other industry experts gave us lots of ideas to work on in prior Discovery sessions… and now we'd like your help prioritizing them."), 2) Projector ("We'll project our notes… so you can tell us if we're getting anything wrong."), and 3) Agenda ("Here are the five sections we'd like to cover. The first section—Outcome Ratings—is the most important by far.")
Diverge & Converge: It can also be quite effective to explain to customers that your Discovery interviews helped your team "diverge" to all possible customer needs… which lets you avoid errors of omission (overlooking an important need). And now these Preference interviews will help you "converge" on the right

customer needs, to avoid errors of commission (choosing the wrong needs to work on).

Industry research: Consider describing the ten outcomes you'll cover as your "industry research" you'll be sharing. After all, these are the ten customer needs you heard directly from customers during Discovery interviews the most often and the most enthusiastically. That's why they made your short list. Calling it "industry research" makes the customer feel they're getting something valuable out of the meeting.
Customer's chance to "vote": You can tell the customer that their 1-to-10 ratings are their opportunity to 'vote' on what your scientists/engineers will work on. Explain that you want your innovation to bring real value to the industry—something better than what they can get today—so you'll be looking for outcomes that are both important and currently unsatisfied.
Other languages: As with Discovery interviews, it's best to conduct your Preference interview in whatever language the customer is most comfortable with. Of course, you'll need a Moderator that can speak their language, and a Note-take that can record in their language. But what about all those English agenda words in the left side-bar... as well as all the instructions within each of the 5 parts? You can change them to a different language by clicking the "gear" icon in the upper right of the screen. Then click Language > Language Converter and select one of nine languages. You can also edit and manually change the text on the left side.
Multiple companies: What if you are interviewing representatives from several non-competing companies at the same time... something that might happen at a trade show? In this case don't force a single consensus rating for each outcome importance and satisfaction rating. Instead, collect each of their individual ratings, since each represents the needs of a separate company. For more, see the BlueHelp articles, Multiple companies in one Preference interview and Interviewing several companies at once.
For more on Preference interviews, see e-Learning Modules 23 and 24 (Preference Interviews A & B), both at www.blueprintingcenter.com > e-Learning. For more details on how AIM clients conduct Preference interviews, see Preference Interview Research Report.
Also check out these 2-minute videos, part of the B2B Organic Growth video series by Dan Adams.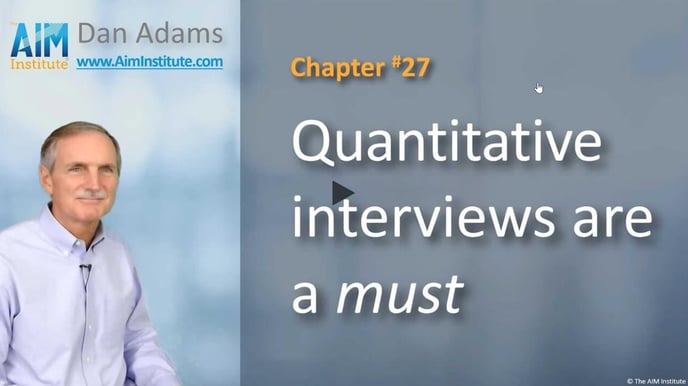 Keywords: Preference interview, Preference interview logistics, suggestions for Preference interviews, partial Preference interviews, Preference interview opening, Preference 1-to-10 ratings, Preference interview languages