What is Everyday VOC, what does it accomplish, and how is it learned?
Your B2B customers have a long list of problems to be solved. But it's not their job to carefully explain each one and deliver it gift-wrapped to your solution providers. It's your job.
You'd like to see market needs move seamlessly from the minds of your customers to your solution providers, but valuable insights can be filtered out of customer conversations by...
Poor listening skills: I'm in the "broadcast mode" selling my product line, instead of eagerly seeking out and listening to the problems the customer is facing.
Few probing questions: When a problem surfaces, I fail to learn when it happens, how often it happens, where it happens, the impact when it happens, and the value in preventing it.
Unstructured call reports: Instead of drawing special attention to each customer

need

in my call report, these are co-mingled with competitive pricing, job changes, industry news, etc.
Weak data mining: Our marketing or product managers can't mine our CRM to detect weak signals of market needs before competitors... because the data is a 'mish-mash.'

With Everyday VOC training, you learn a highly effective probing methodology you can use in any customer interaction. It doesn't matter if your role is in sales, tech support, customer success/service, or other customer-facing function. This leads to two benefits for your business:
Benefit #1: This probing helps sales professionals sell more during the customer call itself. It boosts sales

now

.
Benefit #2: This probing provides uniform capture of needs for effective CRM data mining. It boosts sales

later

.
How is Everyday VOC learned?
The AIM Institute offers a four-hour workshop, in either a public or private format. The public version is offered virtually through a Zoom meeting, and the private version can be either virtual or in-person (e.g., conducted during your business's on-site sales meeting).
The four-hour workshop includes a 75-minute role-playing session, so you can practice the new probing methods you'll learn. (For the virtual workshops, an AIM coach stays in each breakout room to guide you as you practice.)
After this workshop, you'll have 12-month access to many resources at www.aimclientcenter.com. These include the Everyday VOC Guide, with its What-Why-Clarify probing tips, and much more:

Many businesses also arrange for post-workshop coaching. Here an AIM Coach joins your small group of learners via web-conference once-a-month, usually for 3 months. The coach refreshes what was learned at the workshop, provides new probing tips, reviews learners' progress, and answers questions they may have.
How can I learn more?
For more information on Everyday VOC, you can visit www.everydayvoctraining.com to see the schedule of public workshops. You can also download a white paper on this subject free.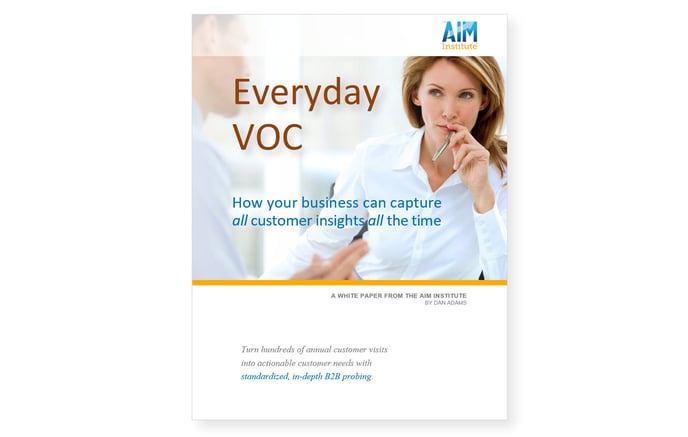 Keywords: Everyday VOC, EVOC, overview, introduction, Everyday VOC benefits, customer insight, filters, listening, probing, call reports, data mining, Everyday VOC workshops, role-playing, coaching