It's important to understand the difference between technology development and product development.
When Blueprinting teams get to Step 6: Technical Brainstorming, they have finished working in "outcome space" and are now moving into "solution space." They have a clear picture of which outcomes customers want improved, and will now consider how to deliver new-product solutions to improve these outcomes.
Don't expect your brainstorming to provide you with your ultimate technical solutions. Your scientists, engineers and others will be doing that in the development stage. The goal of this front-end technical brainstorming is to provide likely technical avenues to pursue. This way your development team will know exactly what to work on the day after your Market Case or Business Case is approved by management.
Before exploring these brainstorming best practices, we need to address something that confuses many companies… the difference between technology development and product development. We sometimes hear Blueprinting practitioners are bothered by work being done in the lab without proper customer interviews. This is a problem for product development lab work… but not for technology development lab work. Let's explore:
Technology development is science-facing… while product development is market-facing. The ultimate purpose of all this work should be to satisfy unmet market needs. So in the illustration below, the pool of science feeds your company's technology development… which feeds your product development… which satisfies market needs.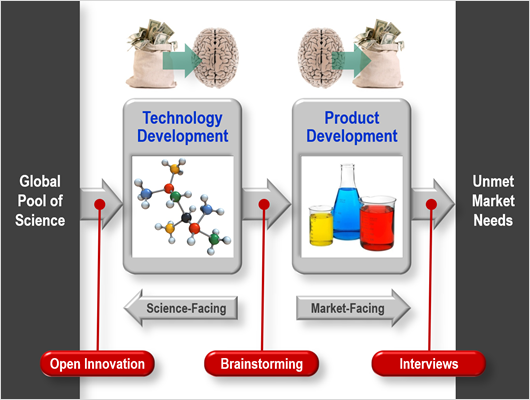 Put another way, technology development turns money into knowledge… and product development turns knowledge back into money. How do you know whether you are doing technology development vs. product development?
Product Development: If you are trying to satisfy the needs of one market segment, you're doing product development. If you do this without qualitative Discovery and quantitative Preference interviews, you'll squander your R&D resources a high percentage of the time.
Technology Development: If you are trying to build capabilities that could eventually lead to new—and different—products for multiple market segments, you're conducting technology development. Think of this as stocking the pantry shelves with technical competencies to be pulled down and applied in market-specific products later.
Notice the links in the illustration above. The more you strengthen these links, the more efficient your left-to-right money conversion process. Your Blueprinting interviews have already strengthened the link between market needs and product development. Open Innovation is drawing on external sources of technology—instead of trying to innovate everything yourself—and strengthens the link between the pool of science and technology development.
And brainstorming—the subject of the next few articles—is an important link between technology development and product development. You gather into the same room (or web-conference) people who understand the possibilities science has to offer… along with the people who understand what the market wants.
For more on this topic, see e-Learning Module 29: Technical Brainstorming at www.blueprintintcenter.com > e-Learning. Also check out the 2-minute video, Technology- vs. product-development, part of the B2B Organic Growth video series by Dan Adams.
Keywords: Blueprinting Step 6: Technical Brainstorming, solution brainstorming, solution ideation, technology development, product development, science-facing, market-facing