Is your business building its growth capabilities? There's an easy, free metric to determine this.
Imagine this: You are a decathlete, scheduled to compete in quarterly track and field competitions leading up to the Olympics in four years. You can prepare using either Plan A or Plan B. In Plan A, you and your coach adhere to a regimen aimed at improving your capabilities. Your progress on maximal oxygen uptake, strength training, sprint times, etc. is closely monitored, with ongoing adjustments made to your program.
In Plan B, you show up for each quarterly competition, try really, really hard, and hope for the best. You even have meetings with your coach, who reviews your last event's results and insists you do better next time. But that's all.
Does Plan B sound a bit silly? So are you using Plan A in your business today? Do you know…
which capabilities drive growth the most?
how to improve these critical capabilities?
whether your capabilities have improved?
how you compare to your competitors?
how to quantitatively track your progress?
If it cost nothing more than a couple hours of your time each year to answer these questions, would you do it? For years, The AIM Institute has been concerned with LADD (leadership attention deficit disorder), an affliction that limits vision past the current quarter. So we developed a free service called the B2B Growth Diagnostic. You can learn more at www.b2bgrowthdiagnostic.com.
Here's how it works: Your employees take an online survey to assess your business on 24 growth drivers. You receive a 20-page B2B Growth Diagnostic report, with your results benchmarked against our database of 5000+ respondents. A companion piece, What Drives B2B Organic Growth helps you interpret your results.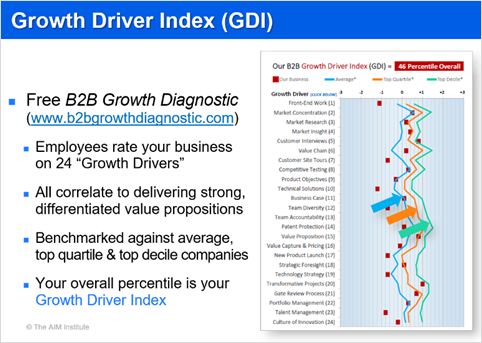 The report includes the above chart, with your current position (red marker), average industry position (blue), top quartile (gold), and top decile (green). Your Growth Driver Index (GDI) is a composite of all 24 growth drivers and is shown at the top of the chart. You can run this diagnostic annually to plot a course for continually improving your growth capabilities.
For more, read the AIM article, Beyond the Vitality Index ... or download our white paper, New Innovation Metrics. Also check out the 2-minute video, Employ new growth metrics, part of the B2B Organic Growth video series by Dan Adams.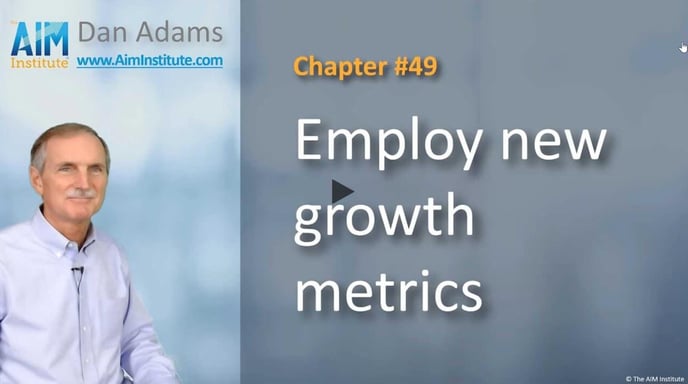 Keywords: vitality index, new product percent of sales, innovation metric, growth driver index, GDI, growth capabilities, b2b growth diagnostic, b2b organic growth