Tips for setting up Preference interviews. Note: It's very important to include the right customer contacts.
When is the best time to schedule a Preference interview? It's when you're finishing up their Discovery interview. If you haven't finished your Discovery interviews yet, here's how you can make this request: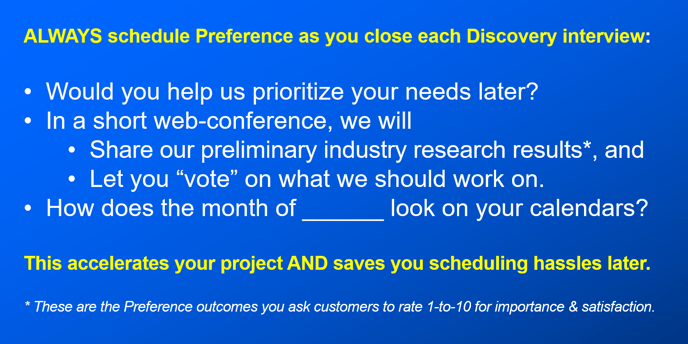 But perhaps you've already finished your Discovery interview with this customer... or you never conducted a Discovery interview with them. In fact, there are valid reasons why your list of Discovery interviewees might be different than that for Preference interviews.
First, you have a different goal in Preference vs. Discovery. In the Discovery phase you were trying to uncover as many outcomes as possible. So you probably found it useful to interview people who would never buy your product, e.g. industry experts, regulators, co-suppliers, etc. But Preference interviews are designed to quantitatively gauge customers' interest in customer outcomes. So it's common to conduct Preference interviews just with potential customers—and customers' customers—not the broader ecosystem.
Second, you may also conduct Preference interviews with companies you did not have a Discovery interview with. These added interviews give you more statistical confidence and they let you engage more potential buying accounts. You may not have conducted Discovery interviews with them for several reasons:
Perhaps you could never align your schedules for a Discovery interview, but they'd now be willing to have a Preference interview with you.
Maybe they are the industry leader, and they declined a Discovery interview because they feared you would transfer their insights to the rest of their industry. (For Preference, you can say you're not looking for any new information… just giving them a chance to vote on what you will work on.)
You may have found that your main mission for Discovery interviews--uncovering all possible outcomes--was completed, because you mostly heard "echos" in your last few Discovery interviews.
Important tip: You can use this tip to set up any Preference interview, but it's especially helpful when requesting a Preference interview with a company that didn't experience a Discovery interview. Just say, "We've been conducting industry research in your area and would like to share our results with you. And while we're there, we'd like to give you the opportunity to 'vote' on what you'd like our scientists/engineers to work on." What's your "industry research"? These are the ten most important outcomes you'll share and ask them to provide 1-to-10 ratings for.
When you request a Preference interview, you can use the Preference Interview Agenda Template: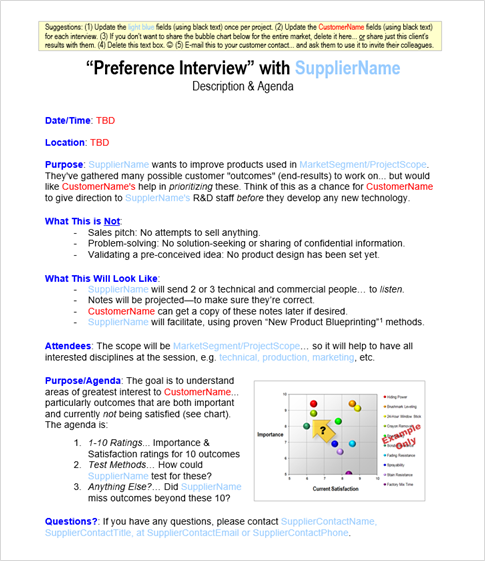 To use it effectively…
Download this BlueTool at blueprintingcenter.com > BlueTools > Preference Interviews.
After reading the instructions at the top, customize this Microsoft Word document for your project and the intended interviewee.
Delete the instructions box at the top and email this to your interviewee contact.
Important: Ask your contact to forward this to the colleagues he/she will invite to the Preference interview.
As with Discovery interviews, you should try to interview several customer contacts at once... but for a different reason. In Discovery interviews you did this so you could get better "idea generation" dynamics as customers built off each others' ideas. But for Preference you want a group so they can debate different viewpoints in your presence.
It's critical that the right people are invited:
When you conduct Preference interviews, you need to have the company's major decision-makers and decision-influencers present.
Why is this so much more important for Preference than Discovery? Discovery is an "additive process": If you failed to uncover a key outcome in interview #4, but found it in interview #6, you're fine. But your Preference interview needs to replicate the customer's natural decision-making for purchasing your type of product. So--unless the company will make separate buying decisions (for each factory location, for instance), your Preference interview needs to capture the single buying intent for the entire company.
It's not good enough to get everyone's input using separate interviews. Because—as you'll see in the BlueHelp article, Preference interview Part 1: Outcome ratings—you will resolve any differences of opinion during a single Preference interview. What if these job functions are based in different cities, e.g. R&D in Chicago and Marketing in Atlanta? No problem: It's perfectly fine to use web-conferencing to get all the right decision-makers into your Preference interview.
In the next BlueHelp article, Tips for recruiting customers to a Preference interview, you'll see suggestions to significantly improve your success rate in setting up these interviews.
Keywords: schedule Preference interviews, choosing Preference interview candidates, Preference Interview Agenda Template, Preference interview decision-makers, decision-influencers