What does the BlueTools button do?
Clicking the BlueTools button in the Blueprinting Center (www.blueprintingcenter.com) let's you access over 20 BlueTools "support aids" to help you with many tasks in the front-end of innovation. Your first-year subscription to the Blueprinting Center also includes lifetime, no-cost access to BlueTools... so there's no need to download and "store" these on your own.
When you land on the BlueTools page, you'll see several buttons arranged horizontally across the top. Click one of these, e.g. "Schedule Discovery Interviews" or "Preference Interviews," to navigate to the BlueTools that can help you with this part of the Blueprinting process.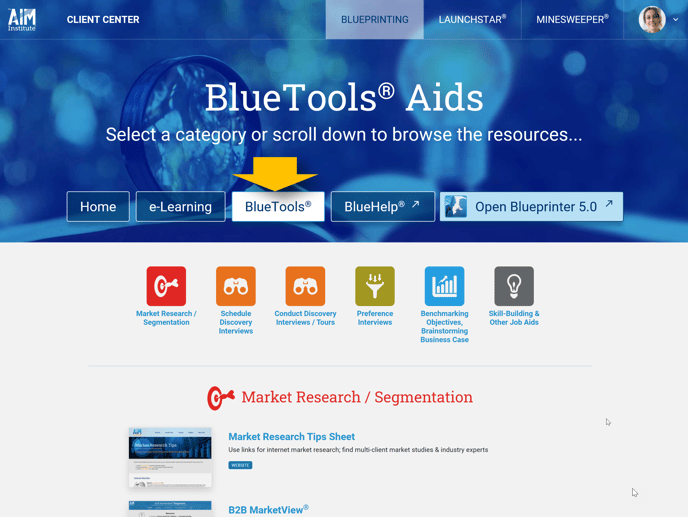 Many of these BlueTools are available in languages other than English. This is especially true for the BlueTools your customers might see... such as those you send to invite them to an interview. Here's an overview of your BlueTools aids, by section, with some important BlueTools noted...
Market Research / Segmentation: Use these BlueTools when you're establishing the scope of your Blueprinting project:
Market Research Tips Sheet: This is loaded with hyperlinks to market research sources and industry expert networks.
B2B MarketView: Use this free tool to determine "how B2B" any market segment is, using AIM's 1-to100 B2B Index.
Schedule Discovery Interviews: This section contains some of our most popular and helpful tools... for convincing customers to be interviewed:
Discovery Interview Agenda Template: Download this Microsoft Word document, modify it as you wish, and send to your interviewee prospects to explain your proposed interview.
Have You Been Discovered: Send this url to customers (in any of 9 languages), so they can get common questions answered about Discovery interviews.
Blueprinting for Sales: Want to engage your sale force in setting up and conducting interviews... but they haven't been fully trained? This site gets them familiar with Blueprinting.
Discovery--A New B2B Innovation Model: This 7-slide PPT deck--complete with speakers notes--is helpful for convincing customers to be interviewed.
Interviewing in Asia: When interviewing in Asia, it helps to make some cultural adjustments in the way you set up and conduct interviews. This PDF contains 19 tips.
Conduct Discovery Interviews / Tours: Here are the most helpful BlueTools in this section:
Discovery Interview Quick-Start Card: This is the "king" of all the BlueTools. Use side 1 to prepare for your interview... and be sure to use the tips on side 2 during your interview.
Debriefing Checklist: Make sure you've got this in hand immediately after your interview... to help you cover Clean-up, Conclusions, and Course of Action.
AMUSE Customer Tour: Use this before and after your customer tour. It helps you apply AIM's methodology for detecting ways to improve customers' operations.
SALT Probing Method: Are you using AIM's "What & Why" probing? This advanced SALT probing from AIM is especially helpful for those "What" questions.
Preference Interviews: Here's our favorite in this section:
Preference Interview Agenda Template: This is the counterpart to the one above for Discovery interviews. Download, adjust and send this Microsoft Word doc to your interview candidates.
Benchmarking, Objectives, Brainstorming, Business Case: These tools are helpful for Blueprinting steps 4-to-7:
Strategies for Setting Product Objectives: There are a lot of charts in Blueprinting Step 5: Product Objectives. This gives you solid strategies for making your new product design decisions.
Business Case Scorecard: Use this to pressure-test your Blueprinting Business Case... so your team is fully prepared for that upcoming stage-gate review meeting.
Skills-Building & Other Job Aids: This is the "everything else" category:
Blueprinting Log: This PDF contains all the slides you saw during your two half-day Blueprinting workshop.
Blueprinting Virtual Workshop Recording: This Zoom recording of the two half-day workshop can provide a great review.
Value Calculator Example: Your company may already have an in-house value calculator. If not, try AIM's Microsoft Excel based tool.
New Product Blueprinting Overview: This PPT deck of 30+ slides (with speakers notes) can help if you're looking for a way to explain Blueprinting to colleagues.
Keywords: BlueTools, support aids, front end of innovation, Blueprinting job aids, market research, market segmentation, Discovery interviews, Discovery tours, Preference interviews, Market Case, Blueprinting steps 4-7.