New certifications are available to Blueprinting practitioners, and are accessible through the new Blueprinting Center homepage. In addition, the new home page serves as a dashboard to manage the execution of the New Product Blueprinting process.
New Blueprinting Center Homepage
The new Blueprinting Center home page serves as a dashboard for the Blueprinting practitioner. In addition to being a portal to all the Blueprinting resources, such as e-Learning, BlueTools®, BlueHelp®, and of course, Blueprinter® software.
Additionally, with this new dashboard view, there are new certification programs available, Certified Practitioner and Certified Blue Belt. (More on the certification programs at the bottom of this article).
The Blueprinting Center homepage is organized into nine tiles, each designed to provide quick access to information that is helpful in executing Blueprinting, or, in achieving a certification level.
Here's a view of the new page: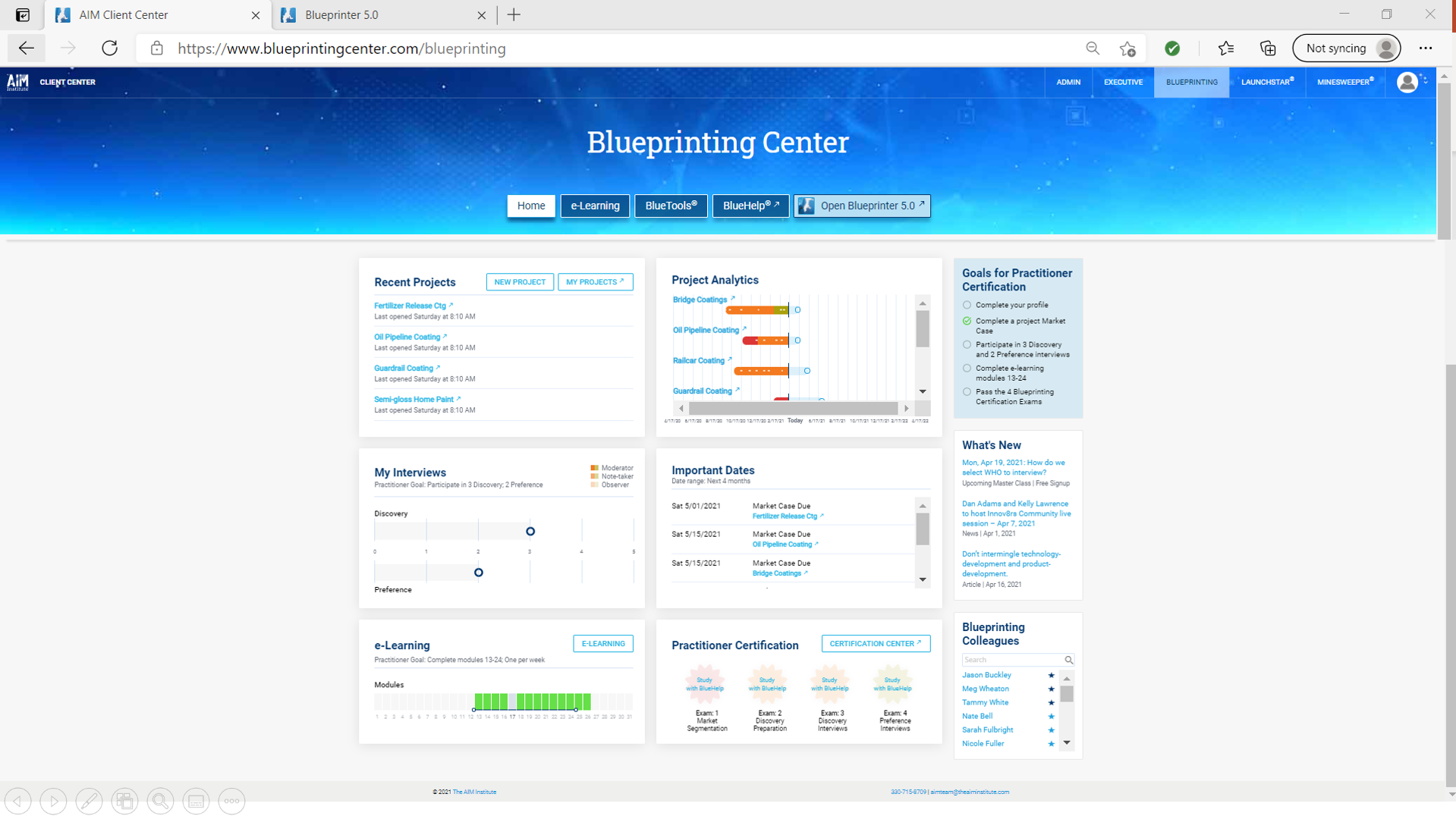 It has nine sections as follows:
Recent Projects: Access recent projects, open a new project, or access the My Projects page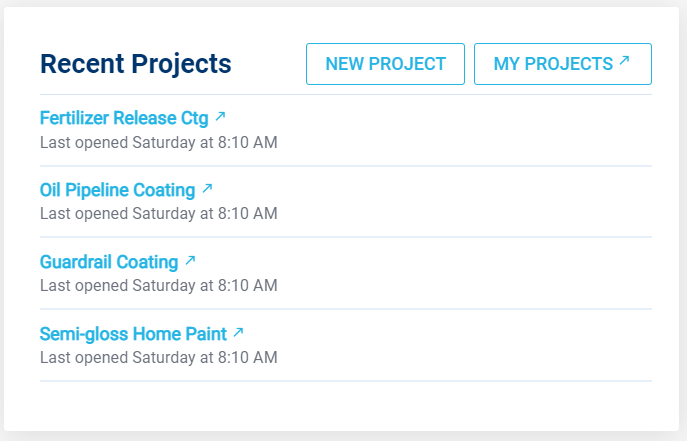 Project Analytics: Track the progress, including the interviews completed, of each project towards the Market Case goal.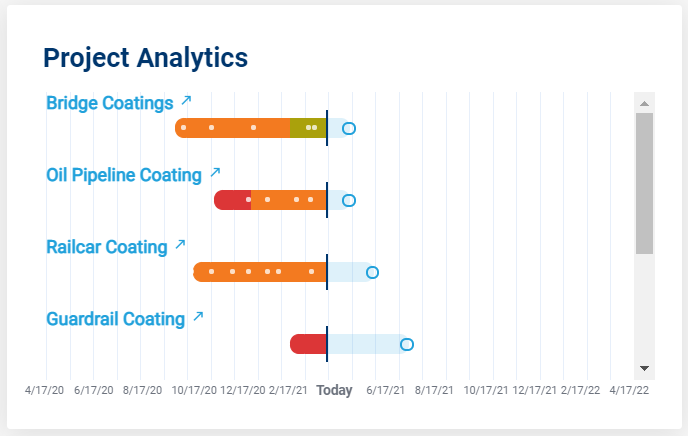 Goals for Practitioner Certification: Track progress towards certification (more on this later in this article)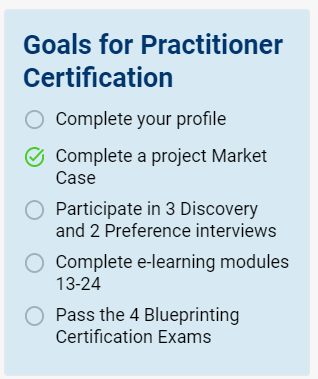 My Interviews: Track personal interviewing experience for both Discovery and Preference interviews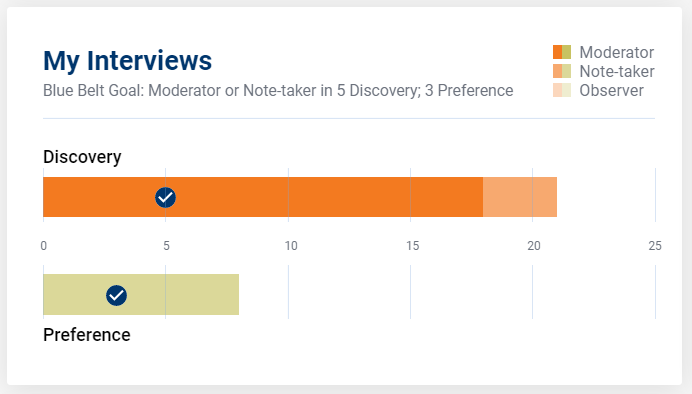 Important Dates: Keep up with upcoming important dates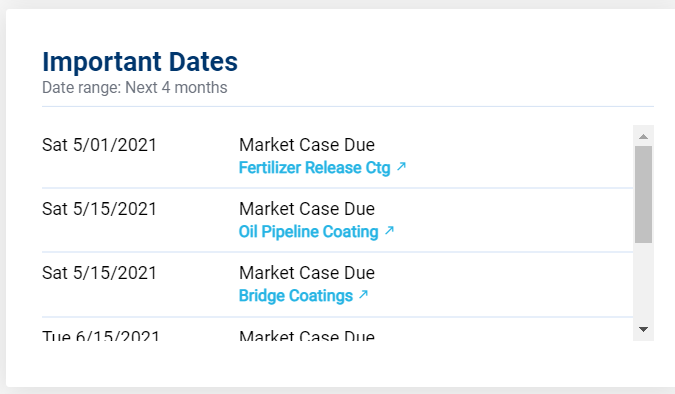 What's New: Stay apprised of the latest from AIM, including the upcoming Master Class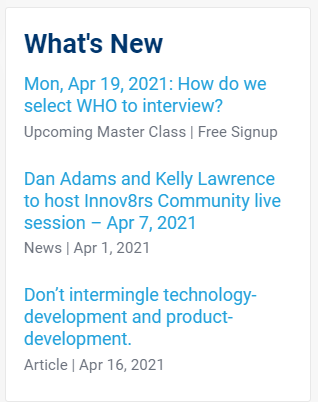 e-Learning: Track progress towards e-Learning course completion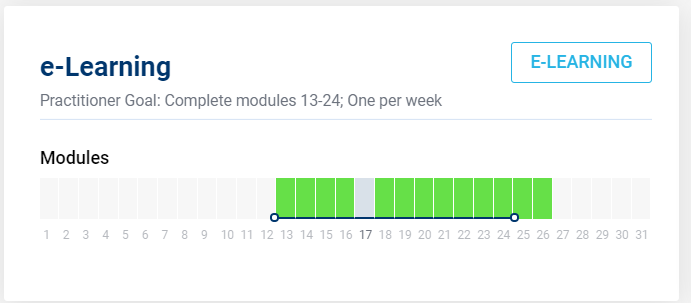 Practitioner Certification: Track progress against the certification exams, and access the exams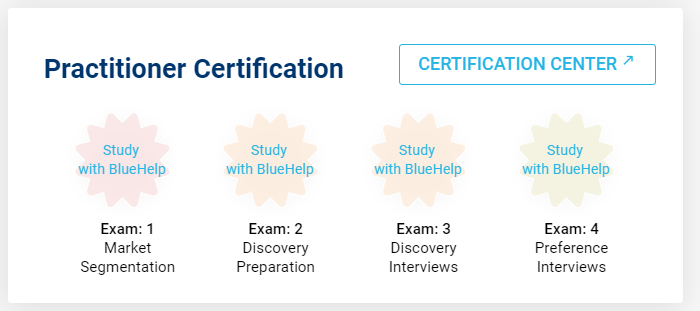 Blueprinting Colleagues: Locate other practitioners within your company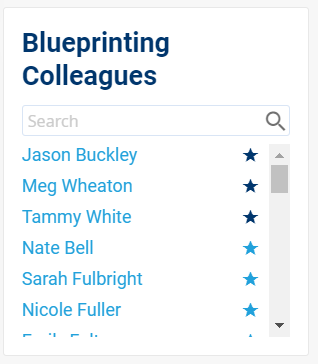 New Blueprinting Certification Programs
There are two certification levels: Certified Practitioner and Certified Blue Belt. The requirements are as follows:
Certified Practitioner:
Pass four exams (Market Segmentation, Discovery Preparation, Discovery Interviews, and Preference Interviews)
Participate in 3 Discovery and 2 Preference Interviews
Complete e-Learning modules 13-24
Complete a Market Case
Certified Blue Belt:
Attain Blueprinting Practitioner Certification
Participate as a Moderator or Note-taker in 5 Discovery and 3 Preference Interviews
Complete all e-learning modules
Complete the 3 final Blue Belt exams ( Blueprinter® software, Blueprinting Methodology, Rest of Blueprinting)
Certification Exams
Between both certification levels, there are a total of seven exams.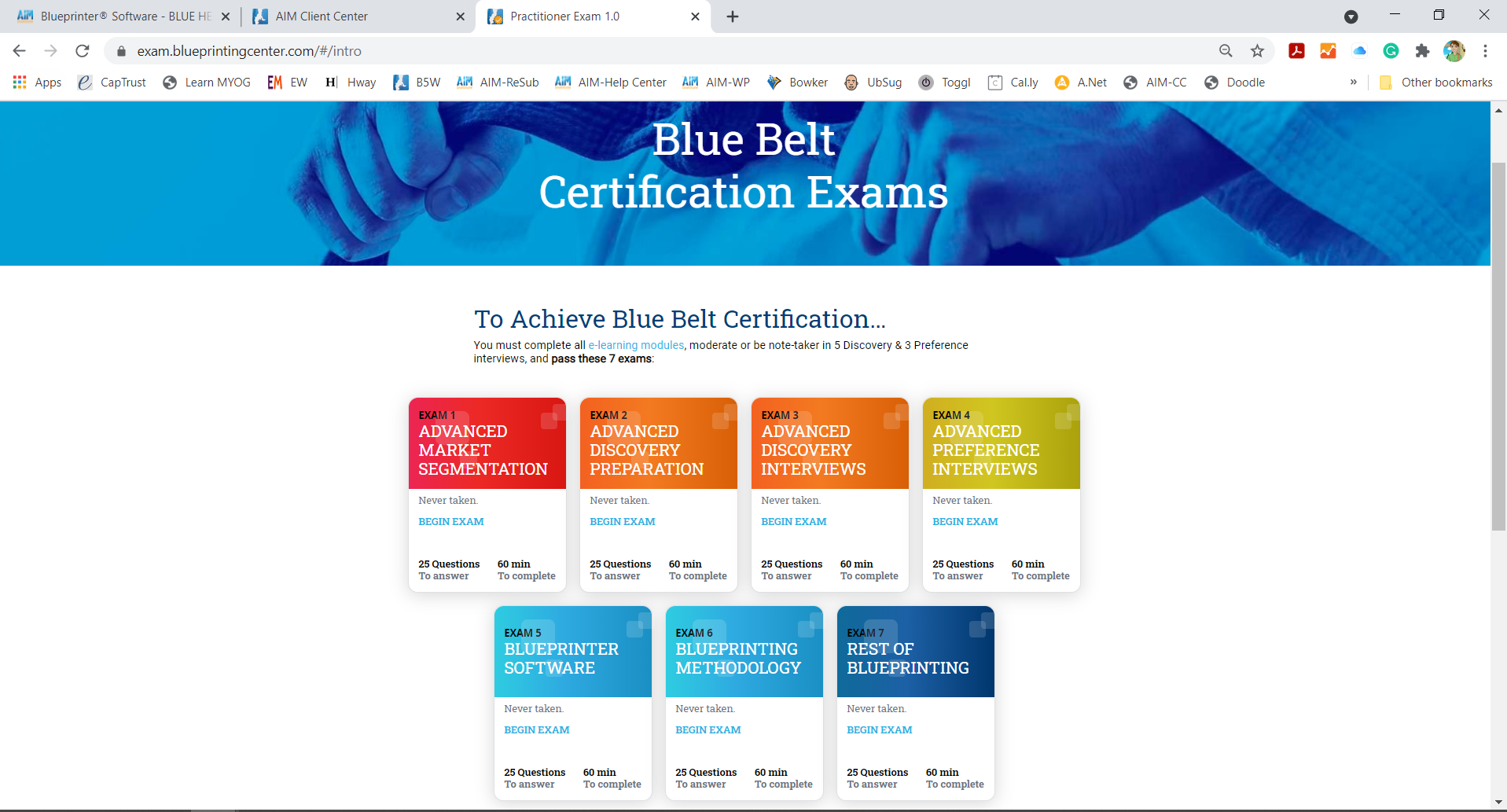 Each exam has 25 questions. A test-taker will have 60 minutes to complete the exam. Being timed, it's "open book", and acceptable for test-takers to reference materials. To this end, the test itself if more than just a test of knowledge, but also a test of how well someone knows how to find answers within the BlueHelp® Knowledge Center. All the answers can be found within this valuable resource.
Each question is multiple-choice, with one "best" answer. Test takers can note their progress with a bar along the bottom.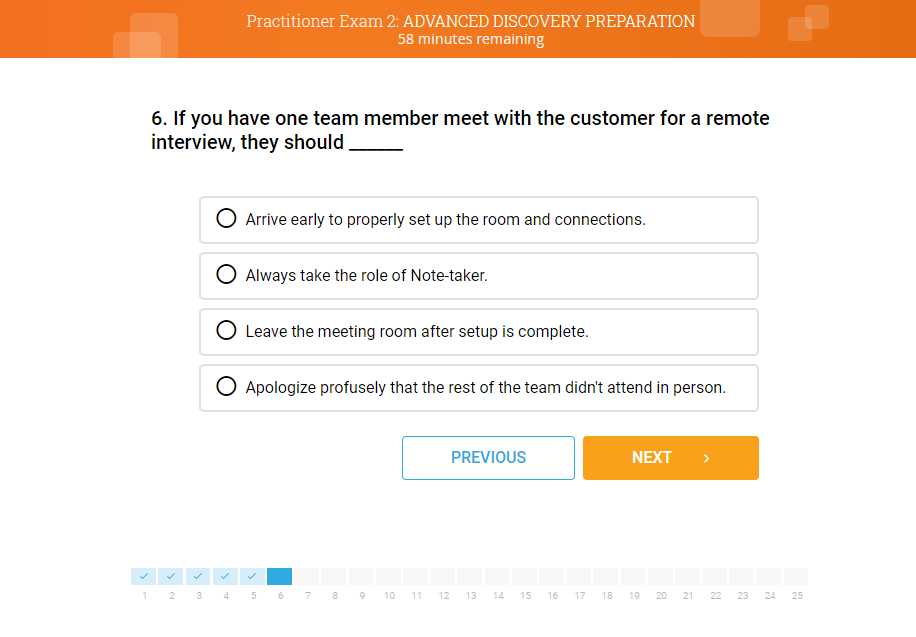 Upon the completion of a test, you'll get feedback on your score, completion time, along with details about which questions were correct/incorrect. Further, it provides links to the BlueHelp articles about the questions which were answered incorrectly.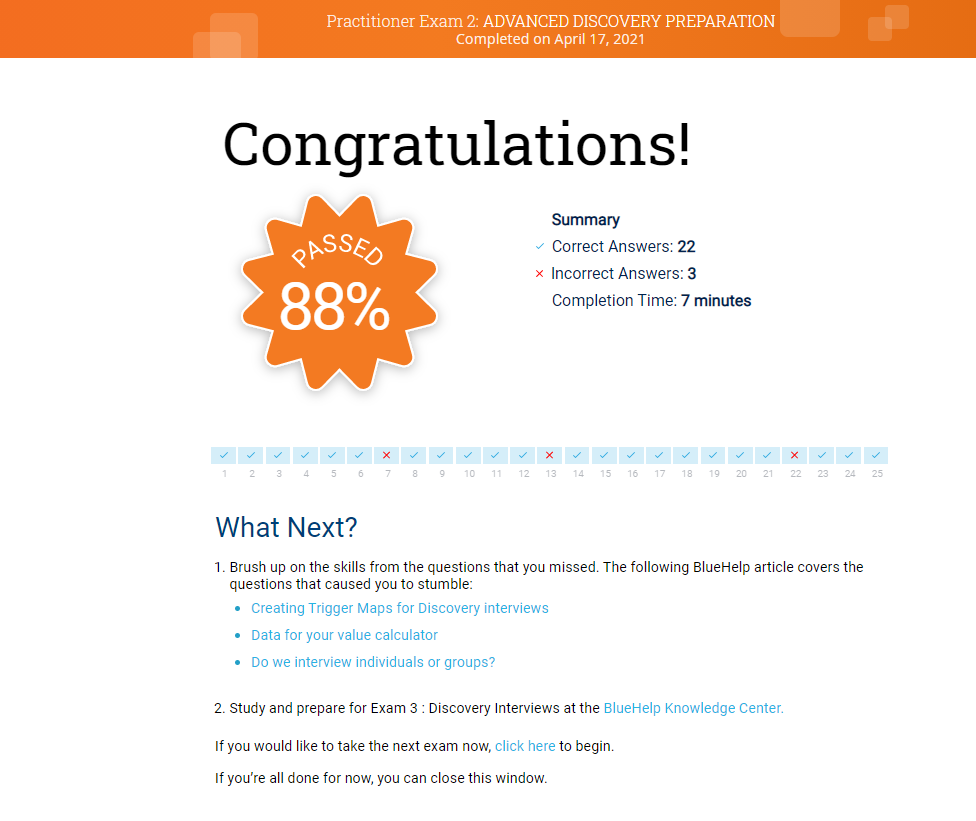 To review what questions were missed or to review any previous response, just select the number in the progress bar at the bottom: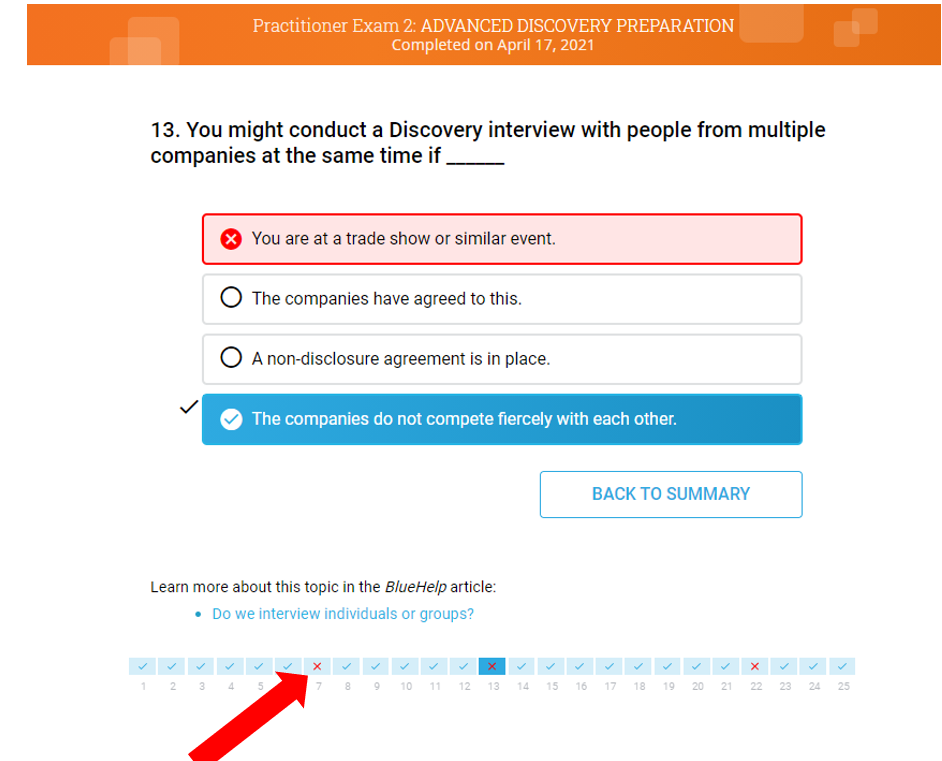 How does certification help?
For practitioners, both certification levels will be valuable additions to their resume. Signaling their B2B innovation expertise to current and future employers.
For leaders, the certifications will be a way to track, measure, and improve their growing B2B innovation asset. The more certified folks they have, the greater the ability to grow organically. And on a more granular level, when leaders are looking for folks to select for key innovation initiatives, the first place to look should be their population of Certified Practitioners and Certified Blue Belts.