Gather financial data during interviews & tours... so you can build a value calculator later.
Is it possible to create a fantastic new product that customers love… and still fail? Yes, even though your new product might seem like a success, you could suffer unwarranted "opportunity costs." That is, the profits delivered to your company are far lower than what they might have been. The most common failure modes are insufficient pricing, protection and promotion:
Insufficient pricing: Here your new product delivers great value to customers. It helps them make money (sell more or at a higher price) or save money (reduce their costs). But you have not quantified this value, and so you leave money on the table when you set your new product's price. The best antidote is to build a value calculator. See How to build & use a value calculator.
Insufficient protection: In this case, your team fails to protect the intellectual property of the new product. This protection is most commonly achieved with patents or well-protected trade secrets. Fail to do this, and your competitors will quickly imitate your new offering. The profits you might have enjoyed for many years will be reduced to a short time period.
Insufficient promotion: This is failing to launch your product with gusto. The longer it takes for prospects to find, evaluate and begin using your new product, the more revenue and profits you delay. Learn more by downloading AIM's e-book on the subject, 12 Rules of B2B Product Launch.
Let's focus on fixing the "insufficient pricing" problem here. To build a good value calculator, you need the right raw material. You must gather hard economic data on your customer's world so your value calculator can predict the value they'll receive with your new product. Some of this data may come from your customer tours (see How to conduct a customer tour), and much of the rest from your interviews. Good probing questions are your key to success here.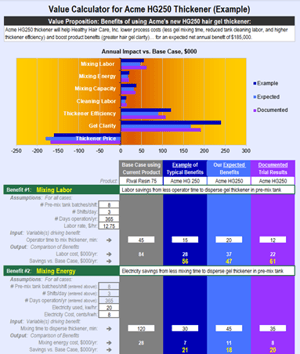 When you're done, you can use this value calculator for two essential purposes:
Help you understand how much money customers will make or save with your new product.
Raise customers' perception of the value of your new product, as they enter their own data into your value calculator.
You can download templates for this Excel-based value calculator at www.blueprintingcenter.com > BlueTools > Skill-building & Other Job Aids > Value Calculator Examples.
For more on the creation of value calculators, see e-Module 8: Creating & Capturing Value at www.blueprintingcenter.com > e-Learning. In the next BlueHelp article, Economic probing questions, you'll learn specific questions to gather the financial data you need.
Also check out the 2-minute videos, Build your interviewing skills and Use value calculators to establish pricing, both part of the B2B Organic Growth video series by Dan Adams.
Keywords: value calculator, economic data, financial data, new product pricing, probing questions