Here are 9 common errors you can avoid... with your first interview.
Try to avoid these common beginner's errors:
Don't spend too much time in Current State… just 2 or 3 questions and a total of 10-15 minutes.
Don't sell. If you detect a sales opportunity, wait patiently till the end of the meeting. Then ask if you can check back with them later with any ideas you have to help them. Then—instead of "selling"—it will just seem like you're being helpful and responsive.
Don't solve. You could jeopardize your intellectual property and waste time. This may be easier said than done, right? Try this: At the beginning of the interview say, "Today we don't want to sell or solve… just listen to better understand your needs. Of course, old habits die hard, so if we start selling or solving, remind us and we'll stop, OK?" Then, if a colleague falls into this trap, you can lightly remind them to stop.
Don't try to impress the customer with what you know… or be fearful about asking questions that will make you "look dumb." If you think this will be a problem, begin your interview by saying, "You know, we have lots of preconceived notions of what we think you want. But we're going to forget those today, and just focus on listening carefully to you. So if we ask a dumb question, it's just that we don't want to make assumptions."
Only omit using Blueprinter software and a digital projector if absolutely necessary. For instance, if you're following a worker around a busy construction site, you can't use a projector. But don't fall into the trap of thinking "my customer won't like this." Tens of thousands of Discovery interviews around the world say otherwise: The sooner you start doing "proper" Discovery interviews, the sooner you'll impress customers and build your personal B2B customer insight skills. And bring your own projector, even as a backup to the customer's. (For our latest recommendation, see the BlueHelp article, Finding and bringing your own digital projector.)
Don't fall back on old-style "questionnaire" probing, with long, supplier-directed questions. Instead, use the "What and Why" probing method outlined at the bottom of Side 2 of your Discovery Interview Quick-Start Card. For more, see How to probe during interviews.
Try to capture just one outcome per sticky note. If you are the Note-taker and wonder if you should start a new sticky note, just ask. What if you need to move some of your text on a sticky note to a new note? Easy. Just mouse over the text to be moved and you'll see an option, "Move to next empty note" automatically appear. Also, here's a tip for speedy note-taking: Instead of clicking each note's "Next" button, just use your keyboard's "Tab" key.
Perhaps the most common—and serious—beginner's error occurs when teams don't allow enough time at the end of the interview for Top Picks and Outcome Statements. Let's say the customer has given your from 1:00 to 3:00pm for the interview. When you get within 20 minutes say, "We can stay past 3:00pm but want to honor that quitting time if you need to. But we do need about 20 minutes to wrap up. Should we start that now?" Then capture their 5-to-10 Top Picks (favorite outcomes), and click "Top Picks" in agenda on the left side, which isolates just the Top Pick sticky notes. Click each, one by one, and record an Outcome Statement in the title box of each note, e.g. "Minimize training time." For more, see the BlueHelp articles, How to select Top Picks (TP), and How to form Outcome Statements.
This might be less of an error than a huge opportunity missed: As you finish the Discovery interview and thank them for their time, mention this was the "divergent" phase… and that you'd like to get some "converging" advice from them later… to help you prioritize. Ask if they'd be willing to have another meeting for this… even if a short web-conference. They'll usually say "yes," and when they do… get your calendars out and schedule it now! You'll save a lot of scheduling work and keep your project moving at a fast pace.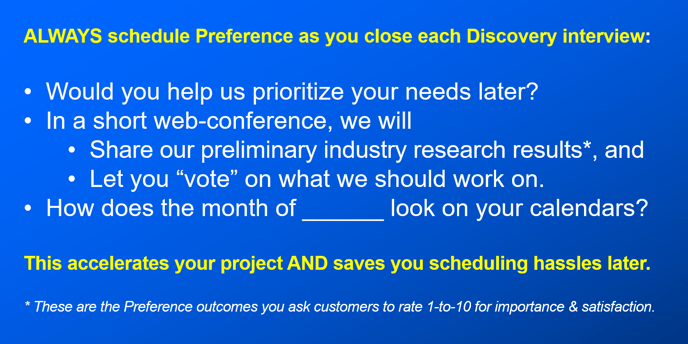 For more tips, check out these 2-minute videos, part of the B2B Organic Growth video series by Dan Adams:
Keywords: beginner's errors, tips for Discovery interviews, common interviewing errors, first interview, schedule Preference, setup Preference