Overview of the Blueprinting Center, with a description of each section in the Home Page
Your Blueprinting Center (www.blueprintingcenter.com) is your "one-stop shop" for everything you need to apply New Product Blueprinting. And except for Blueprinter software and e-Learning, you have life-time, no-cost access to it all after your first subscription year (even if you move to another company).
The Top Banner (blue section) has links to other key pages... e-Learning, BlueTools aids, BlueHelp knowledge center, and (most important) your Blueprinter software. Everything below the Top Banner on this Home Page helps you do your work confidently and quickly. Let's take a tour...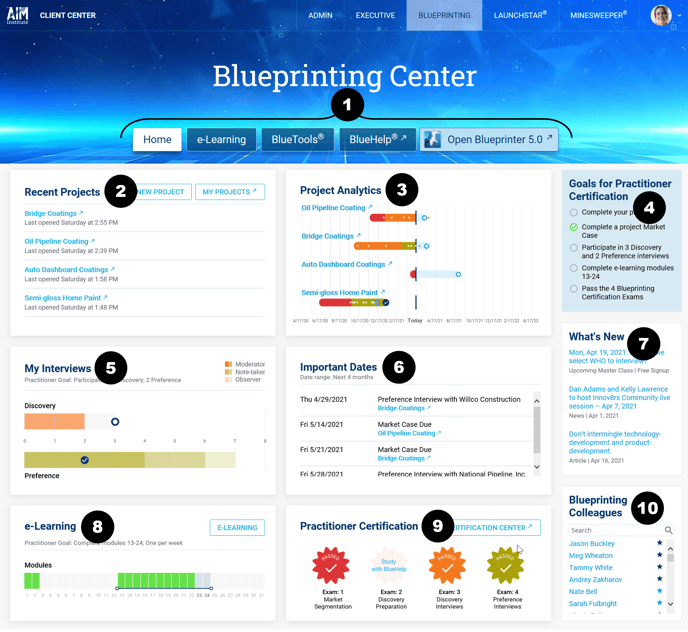 1. Top Banner: At the very top of this page, you may see other links, e.g. other AIM subscriptions (Minesweeper and LaunchStar) or Executive Dashboard (to see a portfolio of your company's Blueprinting projects). Your profile link is in the upper right. The 5 buttons in the Top Banner are links to these pages:
2. Recent Projects: Start a new project in Blueprinter software, or view any existing project created by you... or a colleague that added you to their team (in your "My Projects" list). The most recent projects you've opened can be quickly accessed here.
3. Project Analytics: The timeline colors show your Blueprinting phase (Market Research, Discovery, Preference), the dots are completed interviews, and the diamonds scheduled interviews. A blue circle is your Market Case goal. Click any project to open its Blueprinter software.
4. Goals for Certification: To get your Practitioner Certification, participate in 5 interviews, take 12 e-learning modules, pass 4 exams, and complete a Market Case (even if your project is a "no-go"). Then pursue Blue Belt Certification with more interviews, e-learning and exams.
5. My Interviews: This shows how many Discovery (orange) and Preference (green) interviews you did as a Moderator (dark shade), Note-taker (medium shade), or Observer (light shade)... as was recorded in the Prep Sheets of your Blueprinter software.
6. Important Dates: This reminds you of key dates, e.g. your next scheduled interviews, your Market Case goal date, etc.
7. What's New: Keep developing your skills with this week's Awkward Realities micro-blog, this month's newsletter article from Dan Adams & Scott Burleson, news of upcoming events, and more.
8. e-Learning: See which e-Learning modules you've completed. E-modules 13-to-24 teach hands-on interviewing techniques and are required for Blueprinting Practitioner Certification. The remaining e-modules help you master the rest of front-end innovation and are required for Blue Belt Certification.
9. Certification: Four exams must be passed for Blueprinting Practitioner Certification. Then you'll take 7 more advanced exams for Blue Belt certification. Good news: 100% of the content is in the BlueHelp knowledge center. Fail an exam? No problem, the software suggests specific BlueHelp articles for you to study before you retake it.
10. Blueprinting Colleagues: Search to find other Blueprinting subscribers in your company. Certified Blue Belts and Certified Blueprinting Practitioners are listed at the top, so you know who to ask for help with a question... or to add an experienced member to your next project team.
Keywords: Blueprinting Center, Home Page, e-Learning, BlueTools, BlueHelp, Open Blueprinter 5.0, Recent Projects, Project Analytics, Goals for Certification, Practitioner Certification, Blue Belt Certification, My Interviews, Important Dates, What's New, Blueprinting Colleagues